Updated 18 June 2018 – We've done it!
CAFOD have confirmed that the "Share the Journey" campaign completed its 24900 mile challenge in June'18.  The response has been phenomenal and the feedback so positive that they are continuing the campaign and looking to go around the globe again.
So keep walking in solidarity with our refugee brothers and sisters who need our prayers and support.
Click on the link below to see the highlights of the journey so far and messages from around the world:
https://twitter.com/i/moments/1000015564440571904
Click here to see the article on our parish and diocese's latest walk for the Share the Journey campaign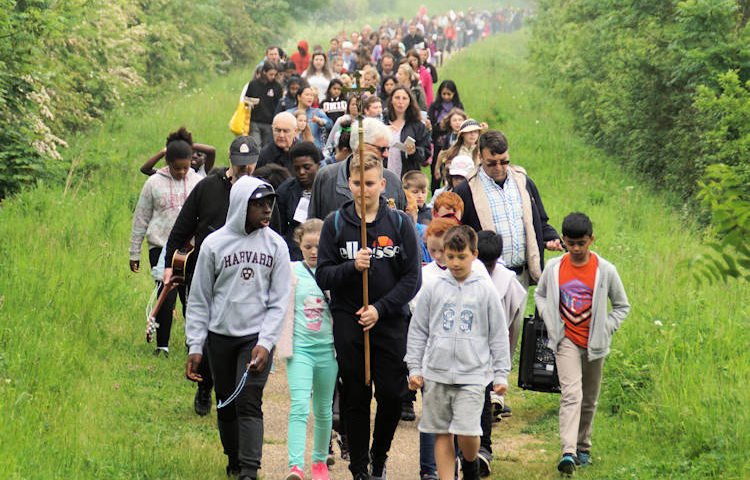 St John the Baptist Cathedral – miles logged to date:
w/e 25 March 2018 – 46 miles
w/e 30 March – 147 miles – 112 miles logged on the Good Friday Stations walk
w/e 29 April – 877 miles from the families of the First Holy Communion programme over Lent
w/e 13 May – 464 miles logged on Monday 7th May during the Ignite Festival walk from Waterden to Walsingham
w/e 1 June – 400 miles logged on Tuesday 29th May during the Children's pilgrimage to Walsingham
TOTAL PARISH AND DIOCESE MILES to date – 1934 miles – well done everyone
This log will continue to be updated each month.
Thank you to everyone who has helped us get to 1934 miles so far – particularly the St John's Walkers and the First Holy Communion and Confirmation families
There will be a thanksgiving mass on Sunday 1st July 2018 at 2pm at the Cathedral for our catechises programmes and the theme will be based on this campaign.  So all welcome – hope to see you there.