The Fatima Pilgrim Virgin statue and saints relics visited St John's Cathedral over the weekend (September 23 and 24) with hundreds of people turning up for a programme of Masses, services, prayers films and talks.
The visit to the Diocese of East Anglia was part of a nationwide tour of cathedrals to mark the centenary year of Our Lady's apparitions inFatima, Portugal, in 1917. Earlier this year, shepherd children Francisco and Jacinta, who witnessed the visions, were canonised at Fatima by Pope Francis, and became the first children in the history of the Church to become saints during the ordinary course of their family life.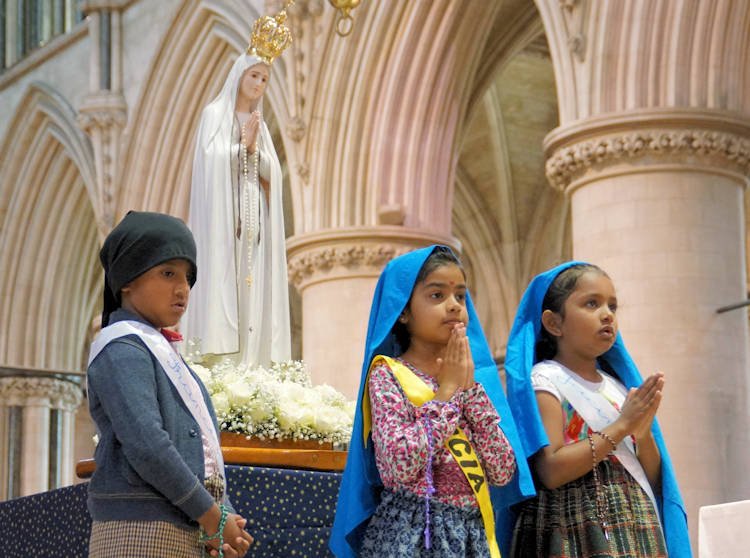 The highlight of the weekend was Mass said by Bishop Alan Hopes with a post-communion Act of Consecration to the Immaculate Heart of Mary. Mass was preceded by the enthronement and crowning of the National Fatima Statue, and was followed by veneration of the Relics of Saints Jacinta & Francisco, and enrolment and investiture of the Brown Scapular.
In his homily, Bishop Alan said: "One hundred years ago, the visions to three poor shepherd children quickly became an international story and have remained so ever since.
"May we all learn from Our Lady's message to be confident in the love and refuge of her Immaculate Heart in times of trial. May we also learn from the simplicity and humility, from the trust and childhood virtue of our two saints – so that we too may prepare well for our journey to heaven and so leads others there by our prayer and sacrifices."
From September 25 to 27, the statue and relics will be visiting Walsingham at a Pilgrimage Retreat. It will include a varied programme of Mass, Adoration, Sacrament of Reconciliation, Evening Vigils and Processions. Also talks on the Message of Fatima, Five First Saturdays, Rosary & Fatima Devotions, Prayers for Peace, for Marriage and for Life, Enrolment in the Brown Scapular, Veneration of the Relics of St. Jacinta and St. Francisco, DVD on Fatima, Fatima devotional materials and books to buy & much more.
It will be led by a varied team of priests & people with Fr Simon Chinery, priest of the Ordinariate of Our Lady of Walsingham, leading the main part of the Retreat.
Contact Antonia for full programme details on : antonia@walsingham.org.uk
Mgr John Armitage will receive Our Lady of Fatima into Walsingham at the 12 Noon Mass on Monday September 25.
Bishop Alan will lead a Holy Hour with Our Lady of Fatima at 3pm.